99Consumer for business
Customers' reviews are a great way to build trust and loyalty for your business.
Check pricing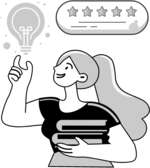 About Imparture
With a focus on the most crucial and highly sought-after digital fields, Imparture offers a focused collection of classes designed to improve your knowledge and help you advance your career. With headquarters in some of the most renowned tech hubs and 26 training centers across the globe, Imparture presents a platform for students to learn about the modern innovations in the field of digital.
855 344 4847

[email protected]

https://www.imparture.com
San Francisco, CA 94103, USA

Views 14