99Consumer for business
Customers' reviews are a great way to build trust and loyalty for your business.
Check pricing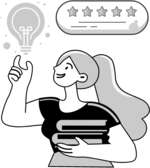 About Grammarly
At Grammarly, we begin with being EAGER, which stands for ethical and Adaptable. We are also impervious, grittier, and Remarkable. We're conscious of using these values in every aspect of our work, whether taking an inclusive and learning-oriented attitude to our team members, helping our users with respect and integrity, or developing a product that can connect users.

[email protected]

https://app.grammarly.com
San Francisco, CA, United States

Views 25