99Consumer for business
Customers' reviews are a great way to build trust and loyalty for your business.
Check pricing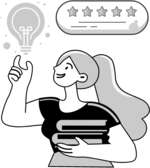 About Bright
This new financial planning system will help you eliminate debt and create wealth. You can pay down debt faster, save more money and improve your credit score. Bright believes everyone should have financial planning powered by AI. These results can make a huge difference in your life. Our goal is to increase middle-income consumers' wealth by making better financial decisions powered by behavioral design and data science.
856 832 6419

[email protected]

https://www.brightmoney.co
San Francisco, CA 94111, United States

Views 10