99Consumer for business
Customers' reviews are a great way to build trust and loyalty for your business.
Check pricing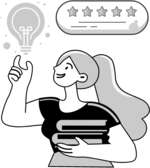 About Alisteducation.com
A-List Education powered By Testive is the key to a bright future. A-List's mission is to help students from all backgrounds and abilities realize their potential. It helps students stay on track and see accurate results. Students also gain the confidence to reach their goals. Our unique adaptive learning technology combines top-quality instruction with test preparation. We also offer 1:1 support and options to meet the needs of every student, such as small groups, classes, and self-study.
646 216 9187

[email protected]

https://alisteducation.com
29 West 36th Street, New York, NY 10018, United States

Views 8